A few months ago Jim enlightened me about TED. Since then I have watched every now and then TED talks – videos about our planet, our lives, our future, our possibilities etc. etc. They are stories from "ordinary" people with passions, vocations and courage to be different, to be unconventional.
Yesterday I attended for the first time a TED event. It was close to home, in Exeter, TEDxExeter 2013. It was an unforgettable experience. It began with an inspired fragment from the Letters to a Young Poet by Rainer Maria Rilke. I studied R.M.R. poetry and letters when I was in high school, and I did it thoroughly. As a young girl I was very romantic, and Rainer Maria was very dramatically an exalted and romantic poet. Here is the English translation from the Letters to a Young Poet:
I beg you, to have patience with everything unresolved in your heart and to try to love the questions themselves as if they were locked rooms or books written in a very foreign language. Don't search for the answers, which could not be given to you now, because you would not be able to live them. And the point is to live everything. Live the questions now. Perhaps then, someday far in the future, you will gradually, without even noticing it, live your way into the answer.
Mad as I am I spent a few hours today reading the letters in the original versions, but I couldn't find the fragment. Probably the English translation is very licencia poetica. Nevertheless it is wonderful to read Rilke in his own language again.
From the first till the last TED speakers, all of them, were fascinating and inspiring. The day was divided into four sections:
THE BIG PICTURE
THE POWER OF CONNECTION
TRANSFORMATION
WHAT FUTURE
The speakers were from different backgrounds and different disciplines: scientists, farmers, artists, public services, activists, pirates, entrepreneurs etc.
I was very touched by Jo Berry's story. I found her story very moving and honest. When her father was killed in the IRA Brighton Bombing during the 1984 Tory Party Conference, Jo was thrown into a conflict she knew very little about. Since then she has visited Ireland many times and worked with victims and former combatants from all sides. In November 2000 she met Pat Magee, the man responsible for her father's death and after that they created together The Forgiveness Project; and they become good friends.
When listening to her words :
I'm beginning to realise that no matter which side of the conflict you're on, had we all lived each other's lives, we could all have done what the other did
I thought to myself, maybe there is some hope for human kind.
I loved the talk by the American violinist Robert Gupta ( video only). He tells a moving story of society's marginalized and the power of music therapy, which can succeed where conventional medicine fails. He mentioned a beautiful quote from Schumann:
Licht senden in die Tiefe des menschlichen Herzens – des Künstlers Beruf.
the English translation:
To send light into the darkness of men's hearts – such is the duty of the artist.
Here is one of his videos
One of my favourite talks was unfortunately also only a video, but a very strong one by Allan Savory. His presentation was about how to fight desertification and reverse climate change.  When he mentions this
Burning one hectare of grassland gives off more, and more damaging, pollutants than 6,000 cars. And we are burning in Africa, every single year, more than one billion hectares
it forces you to think about us humans.
After Kester Brewin's speech entitled "Mutiny! What Our Love of Pirates Tells Us About Renewing the Commons" I just got my own dream back again which was to become a pirate. A piglet pirate…..and here I am: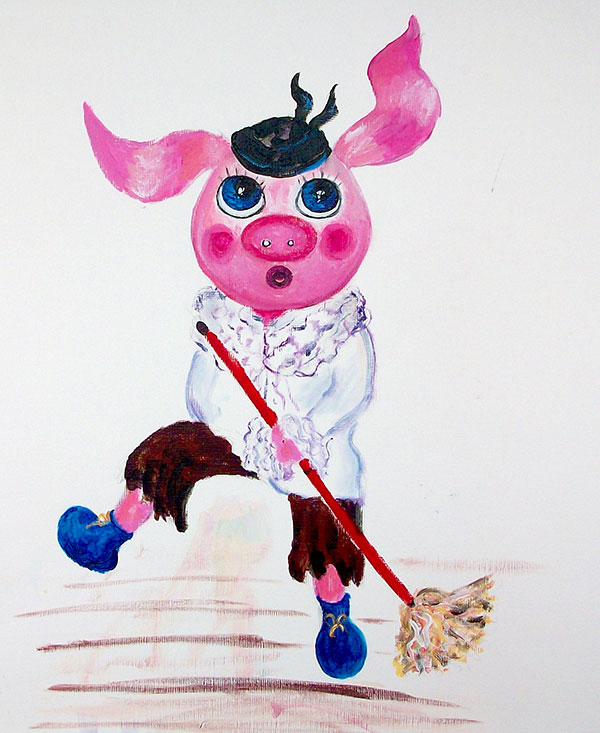 Two times during that day, yesterday, I had this wonderful opportunity to hear poems by Matt Harvey. I loved them. Such brilliant and funny poems; great sense of humour …
Matt Harvey you have got a new fan! Me.